Classroom Rules
Be Prompt
Be prompt and ready to learn in class.
Be Prepared

Be ready to hand in any work or other materials needed for the class.
Be on time every day
If you are absent you will have to make up ALL missed assignments.
 After 2 days, any assignments you turn in will be marked late.

Be on Task
Be attentive and participate. Try to do your best at all times!
The class is dismissed by me, not by the bell.
Be Courteous
Follow the Golden Rule; treat others as you wish to be treated
Turn off and put away your smartphone
And every other personal electronic device except when used
for educational purposes as instructed by the teacher
Consequences
Student Conference
Break/After School Detention
Parent Conference
Office Visit
Referral
Other appropriate action
Example: If you put your head down, you must stand during class.
————————————————————————————————-
Handling Distracting & Annoying Behavior In & Out Of The Classroom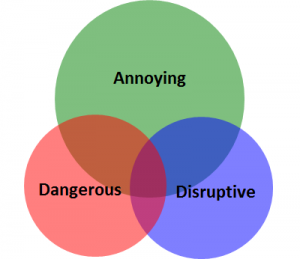 Procedures
Attend to personal needs before coming to class. 
Be nice / respectful to all. When you arrive, please come in and sit down quietly
Good learning environments are quiet. Please close the door quietly behind you 
Remain in your assigned seat unless you have permission to get up. 
Respect for the rights of others to quiet learning environment.
Keep your electronic devices at home or in a backpack 
If you disturbed the class because your phone rings in the classroom, your phone will be confiscated by the teacher for one week.
Standby/Lockdown: All doors will be locked quickly.  Remain calm and quiet.   Stay away from windows and doors. 
Fire Drill: Leave classroom in an orderly manner. Walk quickly, quietly, and with consideration for others, following the designated exit plan.  Move away from the building and stay together.